Built to Build: Blog
USING THE CLOUD TO MANAGE YOUR CONSTRUCTION BUSINESS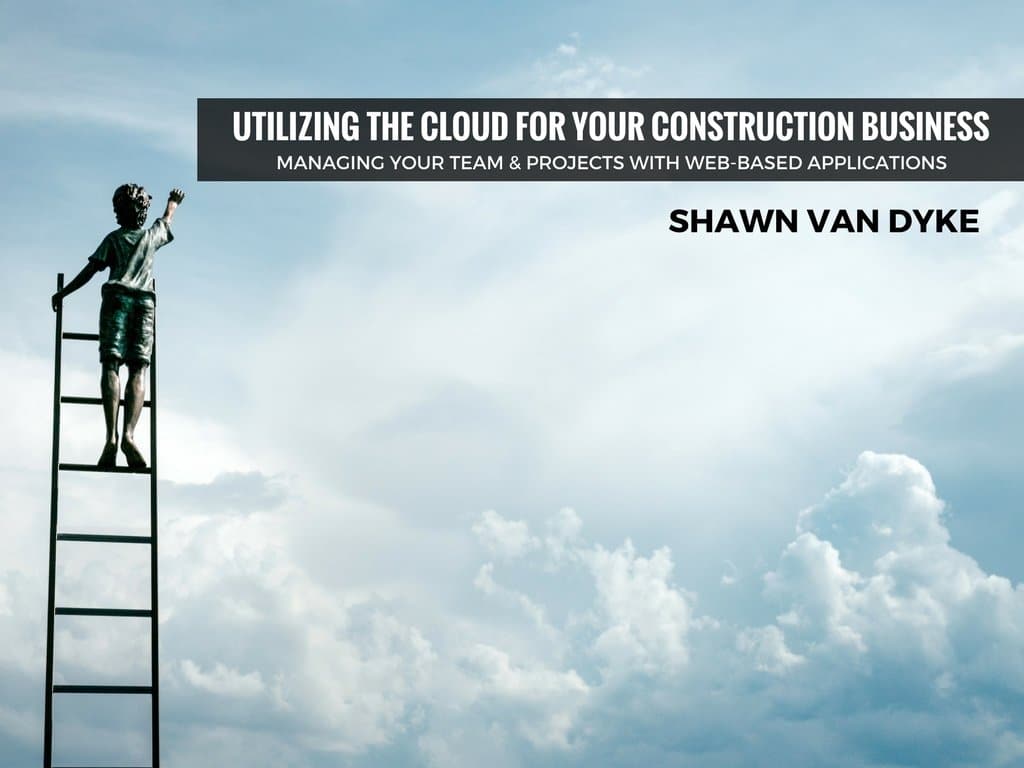 CLICK BELOW TO LISTEN TO THE BLOGCAST OF THIS POST.
Web-based construction project management software gives you the ability to manage your work no matter where you are. Whether you are in the office or in the field, Web-based (a.k.a. "cloud-based") services and applications allow you to manage the flow of information required to successfully communicate, coordinate, and complete your construction projects.
In this article on FineHomebuilding.com, I discuss the benefits of utilizing cloud-based applications in your construction business and describe how you can use these applications or services to streamline your construction business.
WEBOPEDIA defines "CLOUD-BASED" as:
applications, services or resources made available to users on demand via the Internet from a cloud computing provider's servers.
In other words:
THE CLOUD = THE INTERNET.
BENEFITS OF MOVING YOUR OPERATIONS TO CLOUD-BASED SERVICES:
Improved Access – Anywhere, Anytime Data Access
Streamline Business Operations – One-time data entry
Real-time Collaboration – Simultaneously Review
Hardware/Software Independence – Any Device, Platform, and Operating System
Lower Cost of Ownership – Pay for On-Demand Services
Scalability – Upgrade or Downgrade as Needed
Zero Maintenance – Provider Paid Upkeep
Reduced Infrastructure – Limited Hardware/Software Required
Cash Flow Management – Pay Here, Pay Now, and Instant Transfer
Always Updated – Continual Improvement
If your construction company is not using the cloud in your daily operations to communicate with your clients and coordinate your projects with your team, then you will not be as successful as you could be over the next few years.
Construction companies that leverage the power of the cloud will be able to systematize their processes, increase response time, and deliver a more consistent product and service.
Leveraging this technology will help you to innovate.
Craftsmanship is Innovation
Craftsmanship will be defined by the innovation you employ in your construction business.
Craftsmanship will not take a back seat to technology.
Craftsmanship will be assumed when you operate with innovation.
CLOUD-BASED INTEGRATIONS FOR PROJECT WORKFLOW
Successfully managing a construction project, and the overall business for that matter, involves coordinating a countless number of tasks, decisions, and data points on a regular basis.
Here's a general workflow for any construction project:
| | | | | |
| --- | --- | --- | --- | --- |
| PLANNING ➧ | PRICING ➧ | PROCUREMENT ➧ | PRODUCTION ➧ | PAYOFF ✓ |
Below is a table that lists the phases of the project workflow, the utility of cloud-based applications for each phase, and the result of utilizing each application.*
*NOTE: This is only a sample of the tasks that can be enhanced by using cloud-based applications. This article will focus on 5 areas of Project Management: Estimating, Construction Documents, Job Costing, Invoicing, and Scheduling.
5 MAJOR AREAS OF PROJECT MANAGEMENT
ESTIMATING
The heart of any estimating program is a database of information. This database should include a standard list of tasks, materials, subcontractors and equipment required to perform a job.
Compiling this information and formatting it so that you can easily reproduce it again and again is the purpose of any estimating program.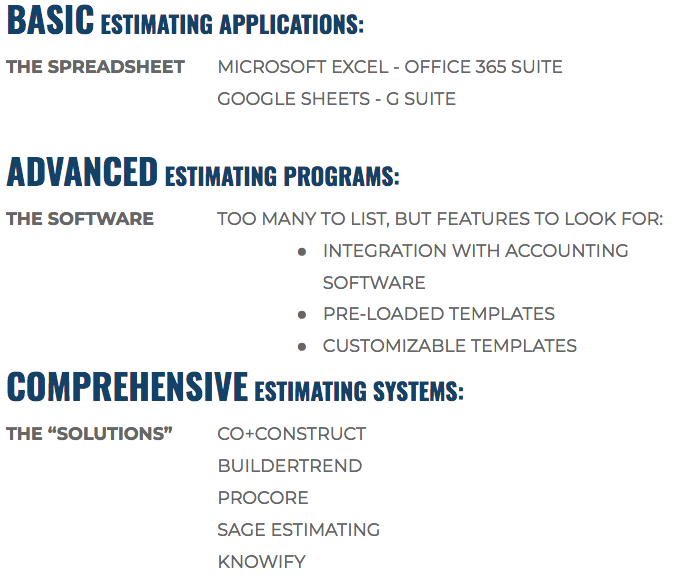 CONSTRUCTION DOCUMENTS
Construction contracts, specifications, design and shop drawings, and change orders need to be easily generated, shared, approved and executed in order to successfully complete a construction project.
Cloud-based applications can help ensure that you have a defined process and that your process is followed and updated.
Your process is only as good as the documents that you produce to track it.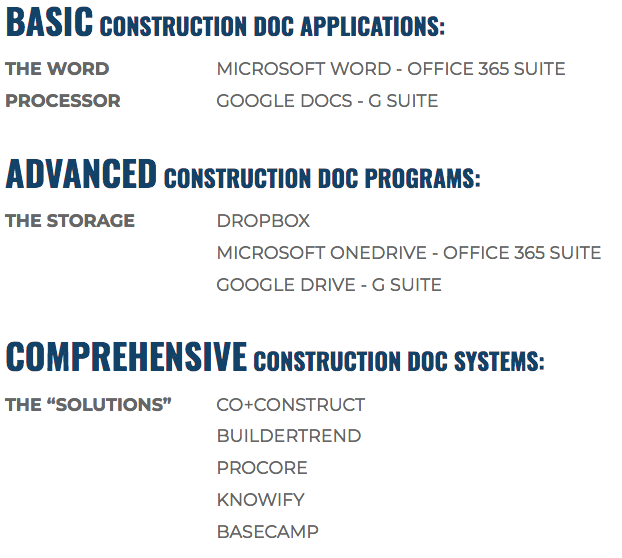 JOB COSTING/TRACKING
There is no shortcut to JOB COSTING/TRACKING, but there are ways to streamline this essential process.
Tracking your projects in the same way that you estimate them is key to understanding your margins and levels of production on your projects. Using these applications will help you standardize your construction business.
There are several items you should track, but the main two are LABOR (time) and MATERIALS (vendors and suppliers).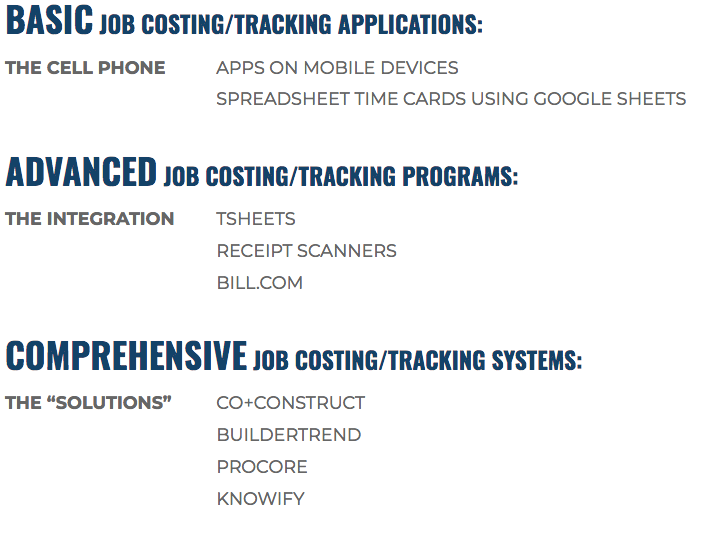 INVOICING/ACCOUNTING
In-house staff or even an in-town bookkeeper or accountant is no longer required because of the advancements in cloud-based accounting programs.
All your data can be transferred via the cloud to the person or firm keeping your books. That data can then be reconciled, tabulated, summarized and sent back to you seamlessly through the cloud.*
*NOTE: You should employ or contract with a professional in these fields familiar with the accounting programs listed below.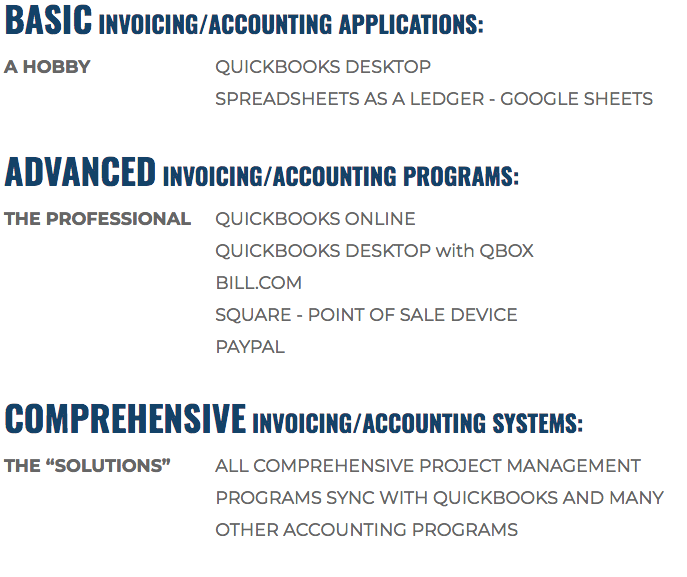 SCHEDULING
Publishing the information regarding the production of the project is vital for not only team members, but also subs and clients.
The cloud makes publishing this information easy and accessible for all parties.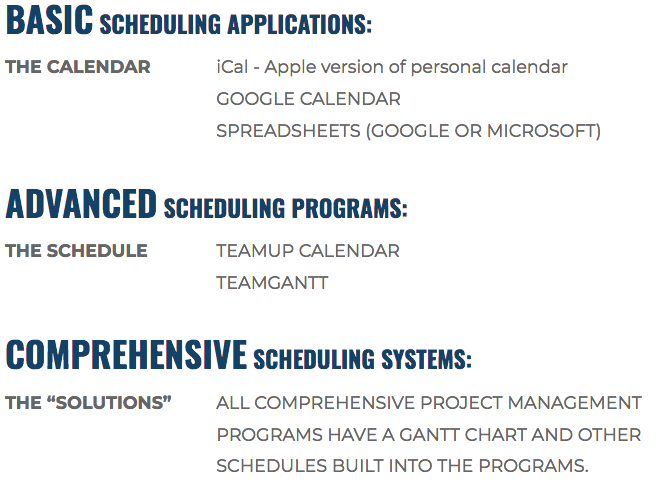 CLOUD-BASED APPLICATIONS FOR CONSTRUCTION PROJECT MANAGEMENT: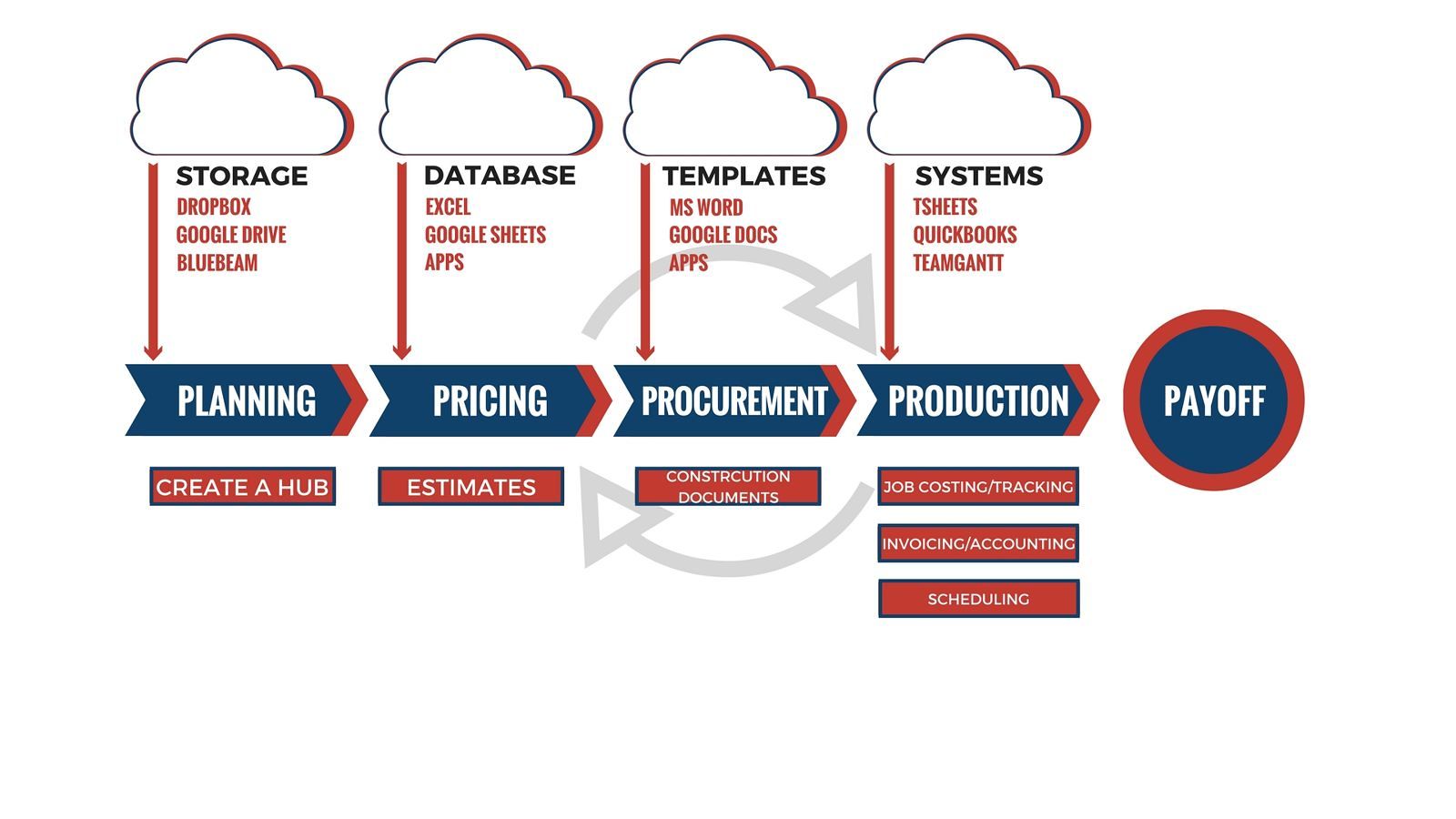 ---
SUMMARY:
This article only scratches the surface of the available cloud-based services and applications for the construction industry.
You should research the best options for your construction company and test them before you attempt to implement them throughout your construction business.
No matter how many features an application has, if no one understands how to use them all, then you could be wasting time and money.
I suggest using multiple BASIC applications to keep integration simple and replacing those applications with more ADVANCED or COMPREHENSIVE applications as the need and ability arise.
In order to stay relevant with your customers over the next few years, you are going to have the meet their expectations for on-demand services and the ability to expedite your process.
Running your construction business by utilizing the cloud will provide that level of service.
If you want to streamline your construction business and DOUBLE your profits next month…
download my FREE book: The Paperwork Punch List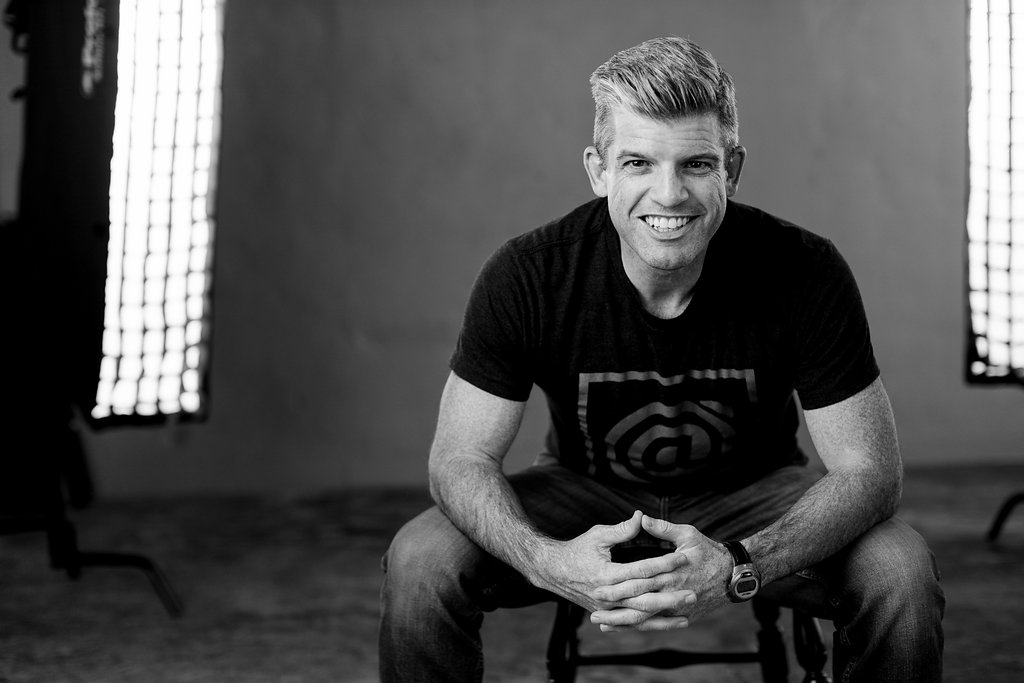 Double your profits next month
Streamline your construction business in 28 days with The Paperwork Punchlist