NEED TO STREAMLINE YOUR CONSTRUCTION BUSINESS?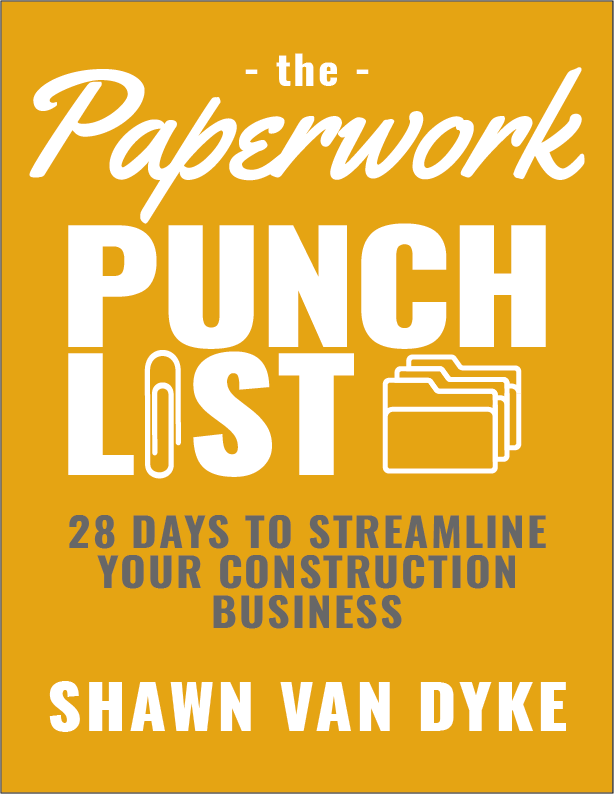 Enter your info below and receive a FREE download of
The Paperwork Punch List: 28 Days to Streamline Your Construction Business.
If you have ever asked yourself any of the questions below, you're in the right place.
"How do I find the time to do all the paperwork my business requires?" "How can I make estimating faster and more accurate?" "How much should I charge for my services?" "How do I know when I can afford to hire someone?" "How can I get paid upfront to prepare estimates?" "How do I know how much money I am making on my jobs?"
"I have been slammed with work for a long time. Why is cash always so tight?"
GROW YOUR CONSTRUCTION BUSINESS
I believe passionate construction business owners who want to succeed MUST learn how to systematize their operations, create a unique experience for their customers, and multiply themselves.
How can you find the time to do this when you are waking up early to do paperwork, running around all day putting out fires, answering phone calls, and constantly missing dinner with the family because nothing ever goes like you planned? Instead of guessing how a construction business is supposed to run and figuring it out on your own, follow Shawn online and reach out to him for help (it's free).
Shawn is a construction industry consultant, business coach, and mentor. He is a keynote speaker and travels the US working with and training construction business owners on how to streamline their businesses.
After spending nearly 20 years in and around the construction industry owning and operating several businesses, he left the "C-Suite' to focus on his mission: TO CHANGE THE WAY THE WORLD VIEWS THE TRADES.
He believes that the most effective way to restore society's view of the skilled trades is to teach and train construction professionals how to grow and scale a successful construction business.
You'll find his approach to helping you grow your business both practical and effective. He developed the methods and techniques he teaches you in his own businesses by being a student of business, leadership, and numbers…he is definitely a numbers guy.
Specifically, he helps you implement the systems you need to develop your data, track your performance, and plan for success.
What needs to

change today

so that

tomorrow is better

?
Contact me and let's talk about what might be slowing you down, standing in the way, or stopping you from achieving your goals.