Built to Build: Blog
STREAMLINE YOUR BUSINESS WITH THIS SIMPLE DIAGRAM
MOST CONSTRUCTION BUSINESSES AREN'T BALANCED
You sell a product or service for money. That's where your business starts.
SALES.
If you aren't able to deliver value to your customers and make a profit, then your business is out of balance.
Construction businesses, as well as businesses in general, must stay balanced between the thing they sell and the value they deliver.
The concept is not easy to execute because most construction business owners get trapped working IN the business instead of ON the business. 
They never get the time to create the systems to stay in balance.
Execution is never easy, but the concept is simple. In fact, it's annoyingly simple.
YOUR CONSTRUCTION BUSINESS SHOULDN'T BE ONE OF THESE
In the Built to Build Academy®'s Built to Grow program, one of our core principles is what we call "The Annoyingly Simple Business Diagram."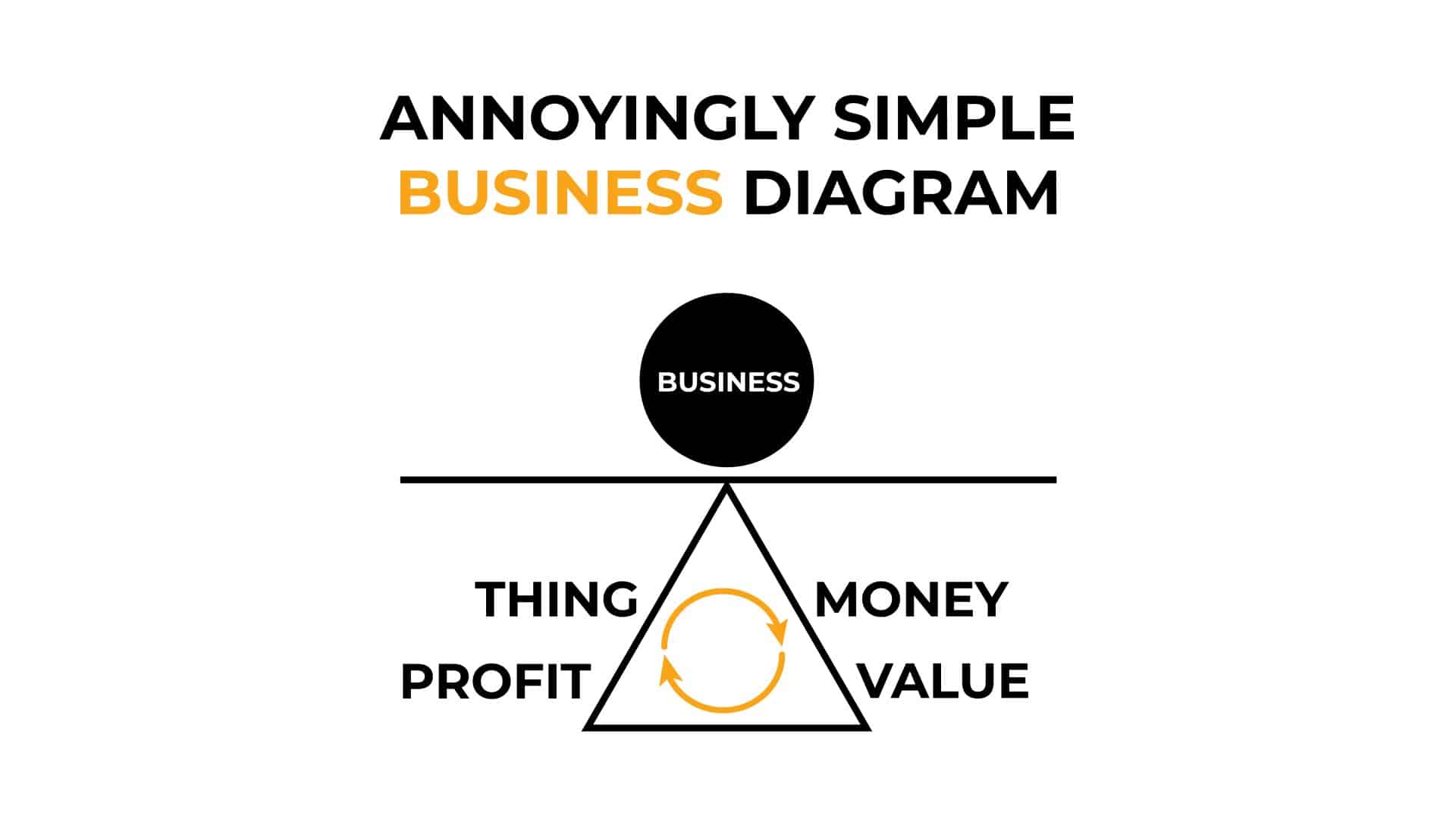 You have a THING you sell to a customer for MONEY. This creates a transaction.
The only reason customers buy anything from you is because it gives them VALUE.
As you deliver the value, you have to make a PROFIT.
Your BUSINESS must be perfectly balanced between the THING, the MONEY, the VALUE, and the PROFIT. 
The problem is most construction businesses can't stay balanced. 
Here's what I mean…
If you're not making a profit, then you're running a charity.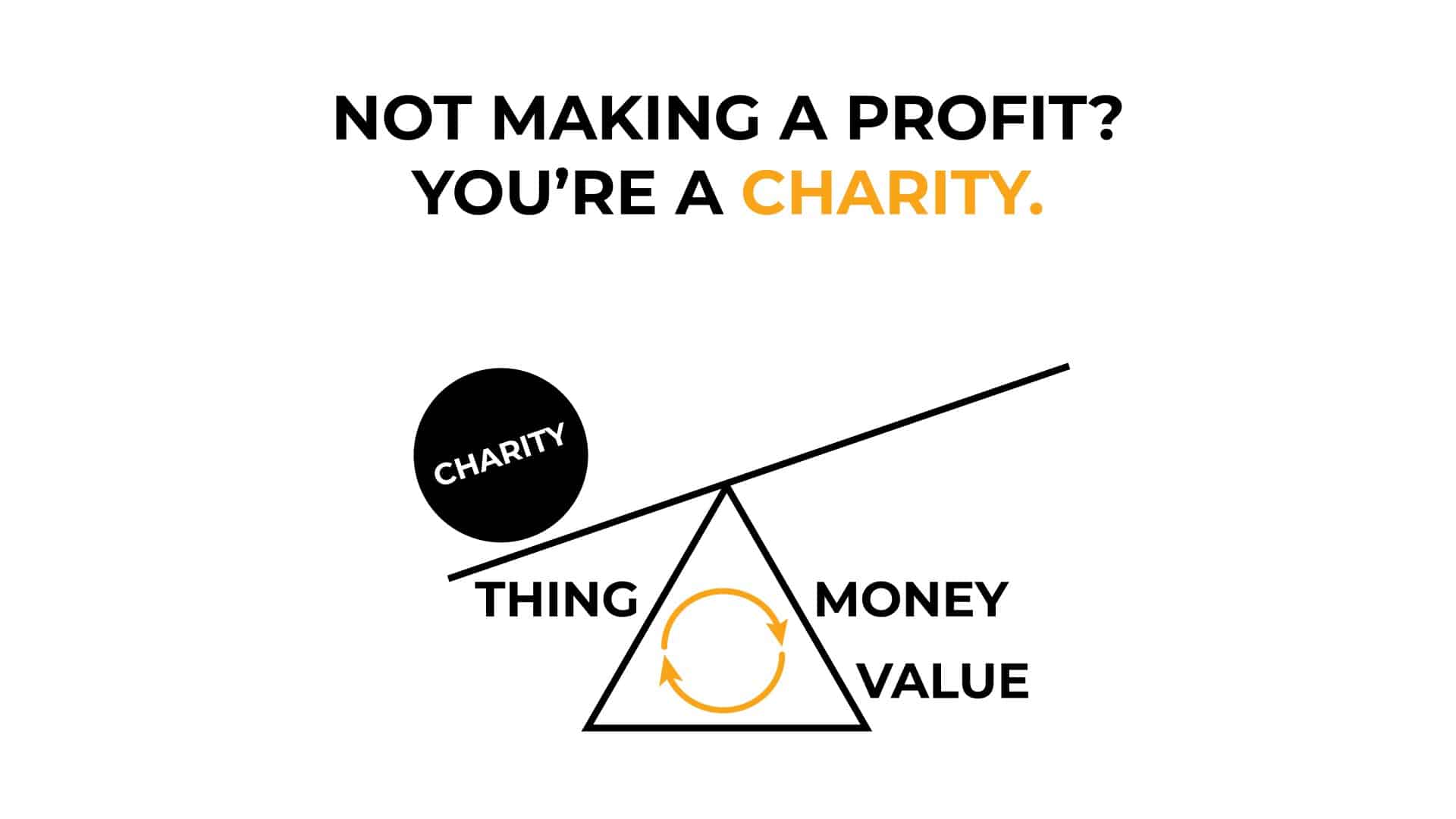 If you don't deliver the value, then you're a fraud.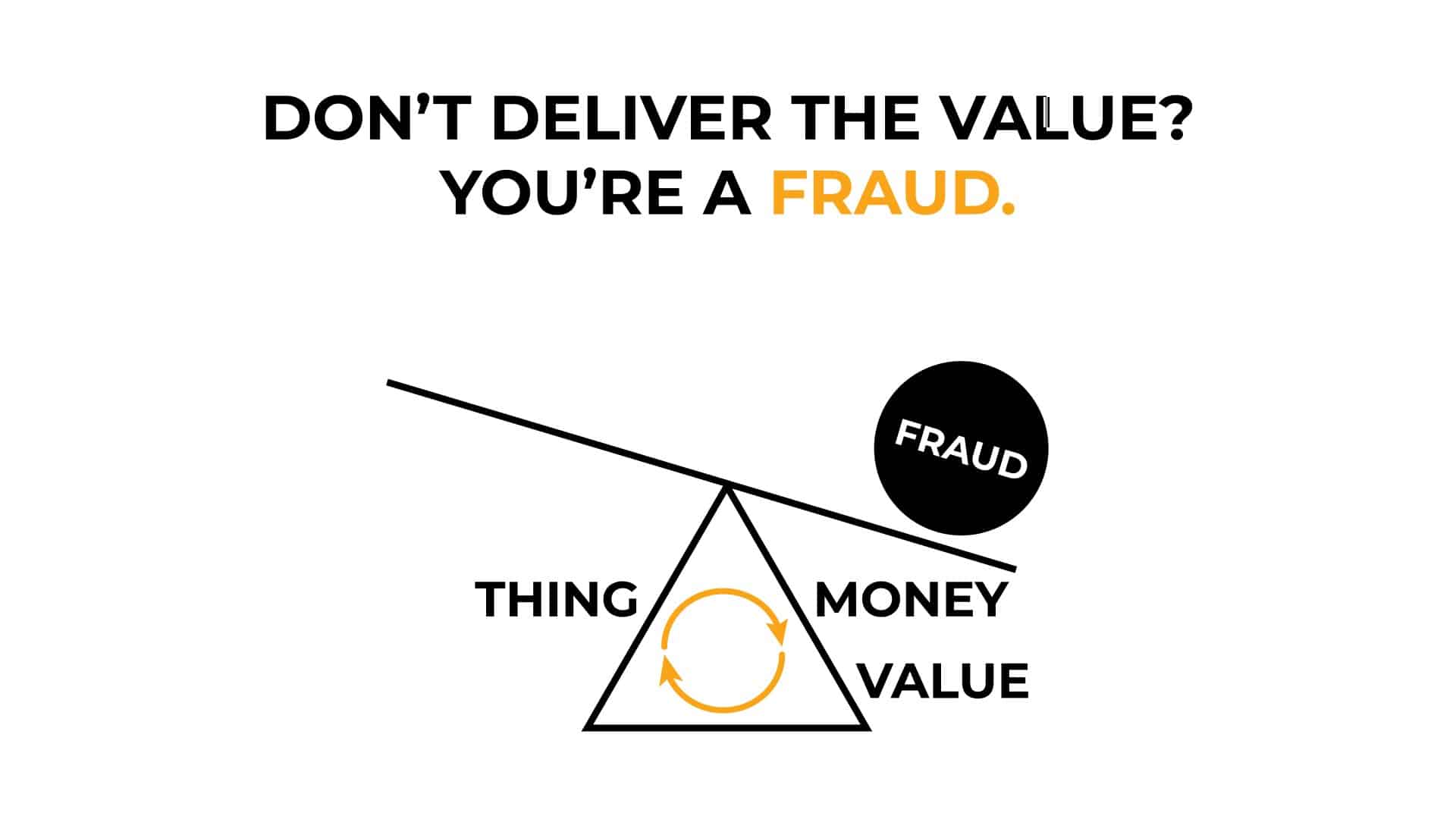 My guess is you didn't start your construction business to run a charity. 
You can't grow your business if you're known as a fraud.
A balanced construction business has systems to generate money, deliver value, and make a profit.
SYSTEMS ARE THE KEY TO A BALANCED CONSTRUCTION BUSINESS
Here are three systems to keep your construction business balances between the THING, the MONEY, the VALUE, and the PROFIT:
Sales system.

Customer Experience system.

Cash Management system.
YOUR SALES SYSTEM
Your business starts with sales.
An effective sales system starts with a marketing message that grabs the attention of your ideal audience and turns them into leads. These leads are then filtered out through your prequalification process or nurtured into hot prospects.
Hot prospects turn into ideal customers when you walk them through your sales system.
Do you have a sales system to prequalify leads and close hot prospects?
Register for this FREE sales training workshop and you'll get our proven sales system so you can stop working for free, attract better customers, and get paid for all the planning and estimating work you've been giving away for free.
YOUR CUSTOMER EXPERIENCE SYSTEM
The number one way to deliver value to your customers is to delight them throughout the life of the project and beyond.
Delight your customers by telling them where they are in your process, how the process works, and what the next step in the process is.
Again, this is just a system – one step after another, repeated as often as possible, producing the same result.
Use simple technology like emails, videos, and Customer Relationship Management (CRM) platforms to automate as much of the communication as possible, and you will turn your ideal customers into raving fans who give you 5-star testimonials.
YOUR CASH MANAGEMENT SYSTEM
You can have ideal customers and a bomb-proof delivery system, but if you aren't making a profit you will have problems.
Your cash management system must ensure you are charging enough to make the margin your business requires for the profit you desire AND provides your construction business with positive cash flow throughout the life cycle of every project.
If profit is the heart of your business, then cash flow is the lifeblood of your business. Your financial reports may show you are profitable during any given period of time, but if you don't have the cash to pay your bills every week, then you will go out of business.
The Profit First for Contractors (PFC) cash management system will give you a step-by-step system to manage your cash flow and make you permanently profitable at the same time.
(You can buy the Profit First for Contractors book here, and the comprehensive PFC training program is included in the Built to Start program in the Built to Build Academy®.) 
HOW TO DESIGN A BALANCED BUSINESS
Most construction business owners want growth. But growth for growth's sake will put you out of business.
You don't need growth. You need systems first.
Without a system for profit, then you're a charity.
Without a system to deliver value then you're a fraud.
Without a system to sell a thing for money that delivers value to your customers which produces a profit, then you don't have a business. You have an unbalanced mess.
When you view your business as a series of simple systems connected together to produce the results you want, then you'll make more money, streamline your business, and get your life back.
The systems are simple, but not easy. Not many things in life are simple and easy.
If you want to learn the simple systems to keep your construction business in balance, and you're ready to do the hard work of creating these systems, then apply for a program in the Built to Build Academy®. 
You're going to struggle until you have these systems in place.
JOIN THE SYSTEM BUILDERS™ COMMUNITY FOR FREE
Wish you could connect with like-minded business owners, ask questions, get feedback, and receive a ton of free resources to manage the "business side" of your construction business?
Then click here, join the System Builders™ online community for free, and get access to a ton of free trainings, resources, and your new peer group of professional contractors.
Double your profits next month
Streamline your construction business in 28 days with The Paperwork Punch List