DO THESE 3 THINGS IN JULY TO END THE YEAR ON TOP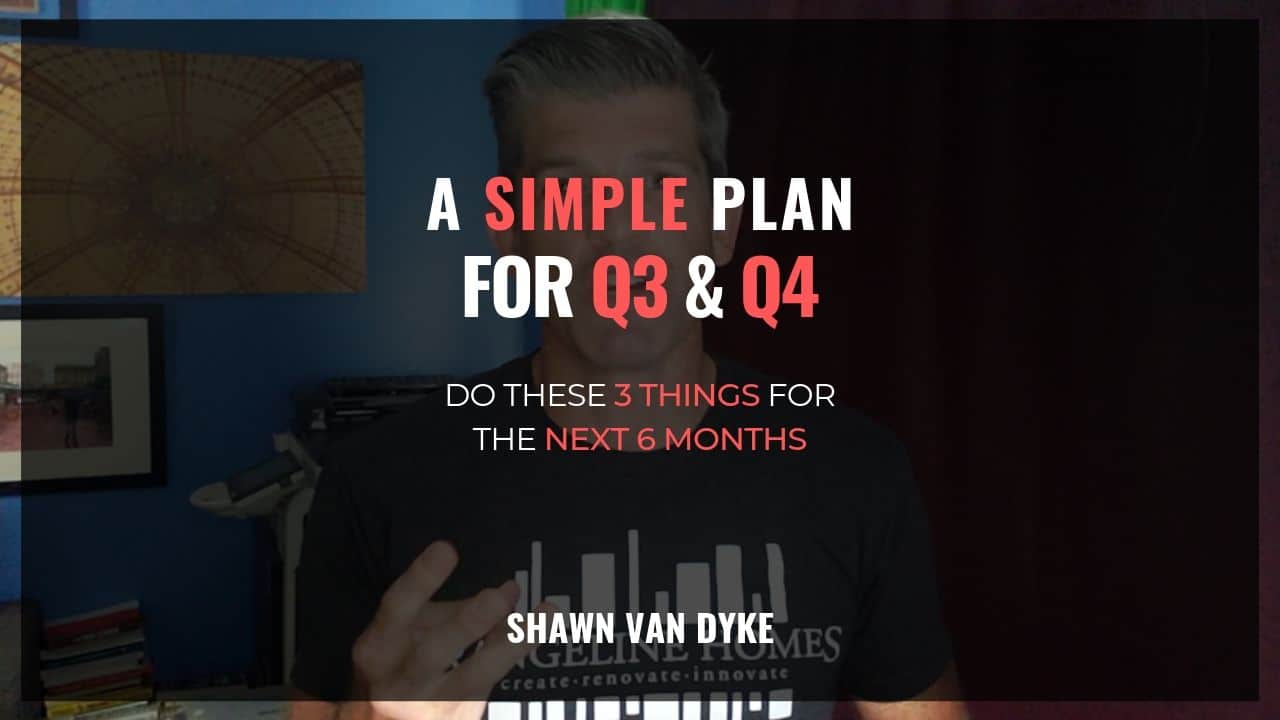 A SIMPLE PLAN IN Q3 & Q4 FOR YOUR CONSTRUCTION BUSINESS
It's the beginning of July and it's one of my favorite times of the year. The reason is because half of the year's already over.
The first half of the year told you exactly what you need to do the rest of the year in order to meet your business goals.
Here are three things that you can do, in the last six months of the year, to ensure you construction business is profitable on December 31st.
CHECK YOUR PACE
You need to make sure and check the pace at which money is coming in (revenue, sales, and the marketing driving them).
Take a look at your income for the first half of the year and double it and ask yourself, "Whatever we did the first half, can we continue that pace throughout the rest of the year?"
And…
"Is our pace going to help us meet our goals?"
Questions to check your pace:
What is our average monthly income?
How many leads did we get the first six months?
How many man-hours did we use to generate the income we received?
Are all of our projects on schedule?
How many new hires did we make and how long did it take to onboard them?
Did we make a net profit?
CHECK YOUR BURN RATE
Cash is the fuel that sustains your business machine. You need to check your fuel consumption.
If your business is not producing a positive cash flow in the first half of the year (spending less than you are bringing in), then you need to change your pace. You're going to run out of fuel before the end of the year.
The second thing you need to do is take a look at your expenses.
Print out your profit and loss statements for each month and take a look at your expenses. 
Look at every single line item expense once a month.
If you haven't reviewed your expenses up until this point, you're losing money and you are not aware of it.
For the next six months, ask yourself these questions:
Do we really need this?
How does this thing drive revenue into the business?
Is there a technology or app or system that can automate/streamline this expense?
Who is overpaid/underperforming?
What return are we getting on our marketing?
Do we really need this? (Yes, I know I repeated this. You should, too.)
CHECK YOUR RECORDS
Finally, you need to call your CPA right now and schedule a meeting.
Call her up and say, "I need you to take a look at my books and tell me if anything needs to be fixed and if anything needs to be cleaned up. Here's where we're going to be by the end of the year."
Questions to ask your CPA:
What do I need to do to limit my tax liabilities?
What can we do to take advantages of tax credits?
Is there anything you recommend changing in our bookkeeping?
Do you know how a construction business make a profit? (See this post to understand why this question is impoartant.)
That's what you need to do going forward for the rest of the year.
Number one, check your pace.
Number two, check your burn rate.
And number three, call your CPA and schedule a meeting.
Make sure that you're on track to hit your goals by the end of the year.
The next six months of the year are going to fly by, and you don't want to be sitting around at Christmas wondering where all the money went.
BECOME PERMANENTLY PROFIT TODAY
If you want help streamlining your construction business and making it permanently profitable, then go grab my book, Profit First for Contractors.
You can get it on Amazon. It's on Kindle. It's on Audible. It's everywhere.
Download the free resources and sign up for the free video training when you sign up to receive the PFC Bonus Tool Box.
Make your construction business permanently profitable this year.
You've got six months to do it.
IMPROVE YOUR CONFIDENCE AS A CONSTRUCTION BUSINESS OWNER
Do you want to make more money, streamline your construction business, and get your life back?
If the answer is "YES," then sign up for one of my coaching programs.
Click here and fill out the application.  My team will follow up with the next steps.
GET YOUR COPY OF PROFIT FIRST FOR CONTRACTORS
Remember to go buy my book, it's on Amazon, it's on Audible, it's on Kindle, it's everywhere, Profit First for Contractors.
If you want to streamline your construction business and DOUBLE your profits next month...
download my FREE book: The Paperwork Punch List