PROJECTS I AM WORKING ON NOW
This page is a launchpad for some of the projects I am developing, research I am conducting, and programs I am offering.  Check out the current postings below and
contact me
if you have any questions or have an idea for a project that will
help change the way the world views the trades
.
PROFIT FIRST FOR CONTRACTORS 
Are your trapped in The Craftsman Cycle? This brutal cycle is a never-ending loop of urgent tasks and responsibilities that keep contractors from gaining traction toward their important goals.
There is a way out – TAKE YOUR PROFIT FIRST!
Profit First for Contractors addresses the major struggles contractors face and provides clear and actionable guidance on how to overcome them. Shawn shows contractors how to go from simply getting by to becoming permanently profitable. This book is for every construction business owner who dreams of prosperity.
Profit First for Contractors (PFC) puts permanent profitability within reach of every construction business owner.
Line Item or Lump Sum Pricing
If you sell construction services, then you have had to deal with the following question from a client:
"Can you break out the price of each line item?"
How you respond to this question can determine your customer's level of trust and affect the project's margin.
62 Books in 12 Months
I read a few books each year.  I listen to a lot more.
In fact, I consumed 62 books in 2018.
Click the button below to read a review of some of my favorites, and learn my secret hacks to knocking out your book list goals.
You can also sign up to get on my monthly book review list.
FREE TRAINING
Discover The Proven Process To Prequalify Your Leads, Close More Sales, & GET PAID FOR PLANNING
Register for this FREE Training by clicking the button below.
This Free Training Will Show You How You Can Start Charging For Estimates Today.
Learn How To GET PAID For YOUR TIME And Create HIGH-VALUE Clients
Shawn is a Fine Homebuilding Brand Ambassador and writes for its Building Business blog.  He has traveled the country as a featured speaker with FHB, appeared on the FHB podcast, and been a contributor to the KeepCraftAlive campaign.  Click the button below to see Shawn's work with Fine Homebuilding.
An online review is the new "word-of-mouth" marketing.
I would love your feedback.
Word-of-mouth marketing is only as good as the words people are using to describe you.
How have I helped you run a better construction business?
Join the Research Project
What Say You?
Recruiting.
Hiring.
Training.
SKILL THE LABOR GAP: the Blueprint for Recruiting, Hiring, and Training the Skilled Labor You Need Today
is the latest book project from Shawn Van Dyke.  He is currently conducting research for the book and would love to have your opinion.
All participants in the research will receive a free DRAFT COPY of the book prior to publishing.
Click the button below to take the survey. (it only takes a couple minutes)
the Paperwork Punch List:
28 Days to Streamline Your Construction Business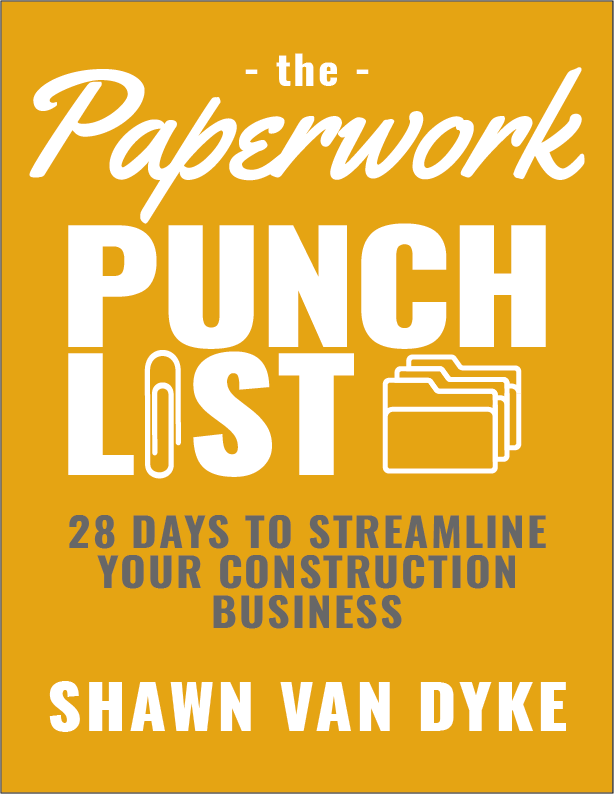 Join the Research Project
What Say You?
Share Your Opinions.
Get Connected.
Help the Trades.
the SKILLED TRADE | SOUND BUSINESS project is an on-going research project I am conducting with professionals in the construction, skilled trade, and design industries to gather information about what they do, why they do it, and their greatest needs in growing their businesses.
Do you need a SPEAKER for your event? Want me to TRAIN your team?
Let's MEET UP. Click the button below to learn how.