PROJECTS I AM WORKING ON NOW
This page is a launchpad for some of the projects I am developing, research I am conducting, and programs I am offering.  Check out the current postings below and
contact me
if you have any questions or have an idea for a project that will
help change the way the world views the trades
.
PROFIT FIRST FOR CONTRACTORS 
Are your trapped in The Craftsman Cycle? This brutal cycle is a never-ending loop of urgent tasks and responsibilities that keep contractors from gaining traction toward their important goals.
There is a way out – TAKE YOUR PROFIT FIRST!
Profit First for Contractors addresses the major struggles contractors face and provides clear and actionable guidance on how to overcome them. Shawn shows contractors how to go from simply getting by to becoming permanently profitable. This book is for every construction business owner who dreams of prosperity.
Profit First for Contractors (PFC) puts permanent profitability within reach of every construction business owner.
BUILT to BUILD: LIVE – LOUISVILLE, KY
Join Shawn for this 1-Day Live Training Workshop on Saturday November 9th in Louisville, KY.
Break THE CRAFTSMAN CYCLE™ with the Profit First for Contractors cash management system.
The Built to Build: LIVE 1-Day Training Workshop is about giving you the confidence you need to grow a profitable construction business.
Once you understand how the financial side of your construction business works, you'll be able to design a custom cash management system that is simple to understand and 100% effective.
You might walk into the workshop feeling overwhelmed by your construction business and alone in your struggles, but you will leave with a clear plan for profits and a bold confidence to transform your construction business.
EARLY BIRD pricing lasts until August 19, 2019.
Limited tickets available. ONLY 20 tickets for this interactive and intensive 1-day event.
Click the button below to register for the event.
CHECK OUT THE "VIP-BUNDLE." It's the best deal.
SHAWN VAN DYKE'S SPEAKING EVENTS – END OF 2019 & EARLY 2020
Shawn will be traveling all over the US for the next several months speaking, teaching, and training.
Click the button below to find out if/when Shawn will be in your neck of the woods.
SOLVE YOUR SCHEDULING PROBLEMS WITH TEAMGANTT
TeamGantt is the scheduling platform I recommend to produce easy-to-use company and project schedules.
Read this article to learn how to use TeamGantt to predict your cash flow.
Click the button below to get ONE FREE MONTH of TeamGantt when you sign up.*
*This is my affiliate link with TeamGantt.
ATTRACTING TOP TALENT – BUILDING OPTIMAL PODCAST
Check out Episode 34 of the Building Optimal Podcast with Jared Gossett.
On this episode Jared and Shawn discuss how to attract and recruit talent for your construction business.
Click the button below to listen to the podcast.
 PODCAST – UNDERCOVER ARCHITECT  with Amelia Lee
Listen to Episode 5 Season 10 of the Undercover Architect with Amelia Lee. 
In this episode Amelia talks with Shawn about what homeowners need to do in order to find the right builder for their homes and remodeling projects.
Click the button below to listen to the podcast.
DESIGN – BID – BUILD IS BROKEN
The old way of getting projects is broken.
Architects design projects without knowing the real costs involved.
This creates a problem for the architect and the homeowner and frustrates the contractors bidding on the work.
Click the button to read the post.
FREE TRAINING
Discover The Proven Process To Prequalify Your Leads, Close More Sales, & GET PAID FOR PLANNING Register for this FREE Training by clicking the button below. This Free Training Will Show You How You Can Start Charging For Estimates Today. Learn How To GET PAID For YOUR TIME And Create HIGH-VALUE Clients
Shawn is a Fine Homebuilding Brand Ambassador and writes for its Building Business blog.  He has traveled the country as a featured speaker with FHB, appeared on the FHB podcast, and been a contributor to the KeepCraftAlive campaign.  Click the button below to see Shawn's work with Fine Homebuilding.
An online review is the new "word-of-mouth" marketing.
I would love your feedback.
Word-of-mouth marketing is only as good as the words people are using to describe you. How have I helped you run a better construction business?
Join the Research Project
What Say You?
Recruiting. Hiring. Training.
SKILL THE LABOR GAP: the Blueprint for Recruiting, Hiring, and Training the Skilled Labor You Need Today is the latest book project from Shawn Van Dyke.  He is currently conducting research for the book and would love to have your opinion. All participants in the research will receive a free DRAFT COPY of the book prior to publishing. Click the button below to take the survey. (it only takes a couple minutes)
the Paperwork Punch List:
28 Days to Streamline Your Construction Business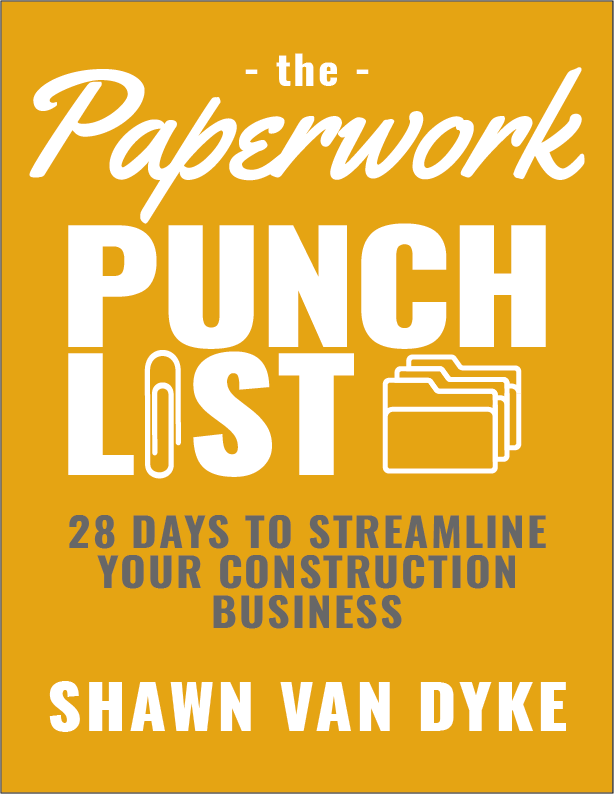 Join the Research Project
What Say You?
Share Your Opinions. Get Connected. Help the Trades.
the SKILLED TRADE | SOUND BUSINESS project is an on-going research project I am conducting with professionals in the construction, skilled trade, and design industries to gather information about what they do, why they do it, and their greatest needs in growing their businesses.
Do you need a SPEAKER for your event? Want me to TRAIN your team?
Let's MEET UP. Click the button below to learn how.