PROJECTS I AM WORKING ON NOW
This page is a launchpad for some of the projects I am developing, research I am conducting, and programs I am offering.  Check out the current postings below and contact me if you have any questions or have an idea for a project that will help change the way the world views the trades.
INTRAPRENUER:
/ˌintrəprəˈnər/
a manager within a company who promotes innovative product development and marketing.
Do you have a heart to serve others?
Do you want to work remotely and create freedom for yourself?
Are you willing to learn, grow, and push yourself?
(If you answered "No" to any question above, then this job is not for you.)
OPERATIONS & PROGRAM MANAGER
Ready for a challenge?
I am searching for the right person to join me on my mission to change the way the world views the trades by providing world-class education to the construction industry, participating with my clients in the success of their businesses, and inspiring leaders to achieve greatness.
If you would like to join me on this mission, then please click the button below and take the written interview.
(The written interview is step 1 of a 5 step process.)
LISTEN TO THE PODCAST
Do You Convert
hosted by:
Kevin Oakley
Help! I'm not that interesting.
In this podcast Shawn discusses how to deal with this thought many builders have:
"My company or our homes just aren't that interesting."
Join Kevin and Andrew (expert marketers) and Shawn on this episode of the Do You Convert podcast.  They also discuss other common lies home builder marketers tell themselves.
Click the button below to listen to the podcast.
LISTEN TO THE PODCAST
EntreArchitect
hosted by:
Mark LePage
How to Find Skilled Employees
I recently spoke with Mark LePage with EntreArchitect about the challenges that are facing the construction industry and the labor gap.  We talk about how attracting the right employees is key growing any business – construction or design firm. We discussed the importance of recruiting your next great employee, investing in your culture, and defining the path for your employees.  Click the button below to listen to the podcast.
FREE TRAINING
Discover The Proven Process To Prequalify Your Leads, Close More Sales, & GET PAID FOR PLANNING
Register for this FREE Training by clicking the button below.
This Free Training Will Show You How You Can Start Charging For Estimates Today.
Learn How To GET PAID For YOUR TIME And Create HIGH-VALUE Clients
THE E-A-S-Y WAY TO HIRE A CPA
Finding the right certified public accountant (CPA) for your construction business can be an intimidating task. Hiring a CPA can be confusing because you might not be sure what you should expect from a CPA and exactly what they do.
In this post I describe the E-A-S-Y way to hire a CPA – E – Expertise, A – Additional Services, S – Simplify,Y – Year-To-Date
An online review is the new "word-of-mouth" marketing.
I would love your feedback.
Word-of-mouth marketing is only as good as the words people are using to describe you.
How have I helped you run a better construction business?
36 BOOKS
THAT MADE FOR
A STELLAR YEAR
MY BOOK LIST OF 2017:
I love consuming books.  Eventually I will reach my goal of 52 books in a year, but I will settle for only 36 in 2017.
This post lists the 36 books I consumed in 2017.  If you own a construction business, then you have to read top 5 on the list.
Join the Research Project
Recruiting.
Hiring.
Training.
SKILL THE LABOR GAP: the Blueprint for Recruiting, Hiring, and Training the Skilled Labor You Need Today is the latest book project from Shawn Van Dyke.  He is currently conducting research for the book and would love to have your opinion.
All participants in the research will receive a free DRAFT COPY of the book prior to publishing.
Click the button below to take the survey. (it only takes a couple minutes)
the Paperwork Punch List:
28 Days to Streamline Your Construction Business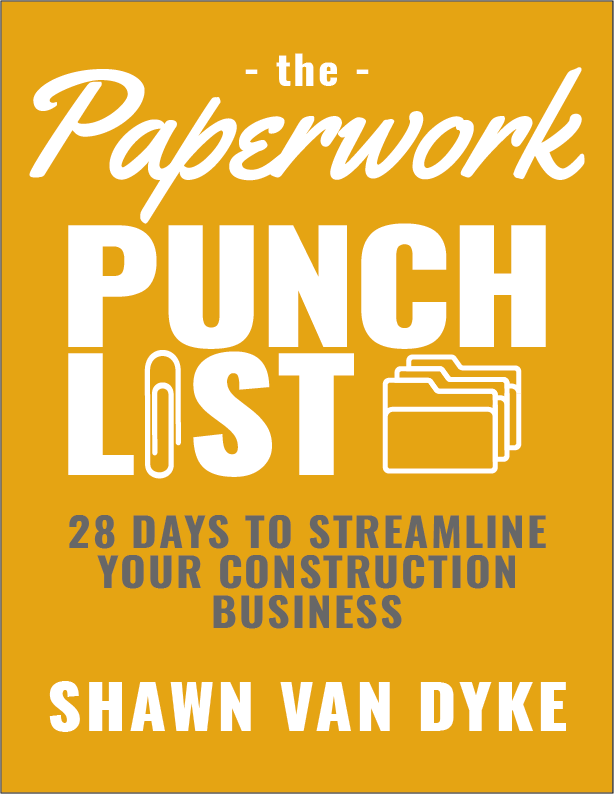 Join the Research Project
Share Your Opinions.
Get Connected.
Help the Trades.
the SKILLED TRADE | SOUND BUSINESS project is an on-going research project I am conducting with professionals in the construction, skilled trade, and design industries to gather information about what they do, why they do it, and their greatest needs in growing their businesses.
Do you need a SPEAKER for your event? Want me to TRAIN your team?
Let's MEET UP. Click the button below to learn how.