Built to Build: Blog
5 CONSTRUCTION ESTIMATING TECHNIQUES TO CLOSE MORE DEALS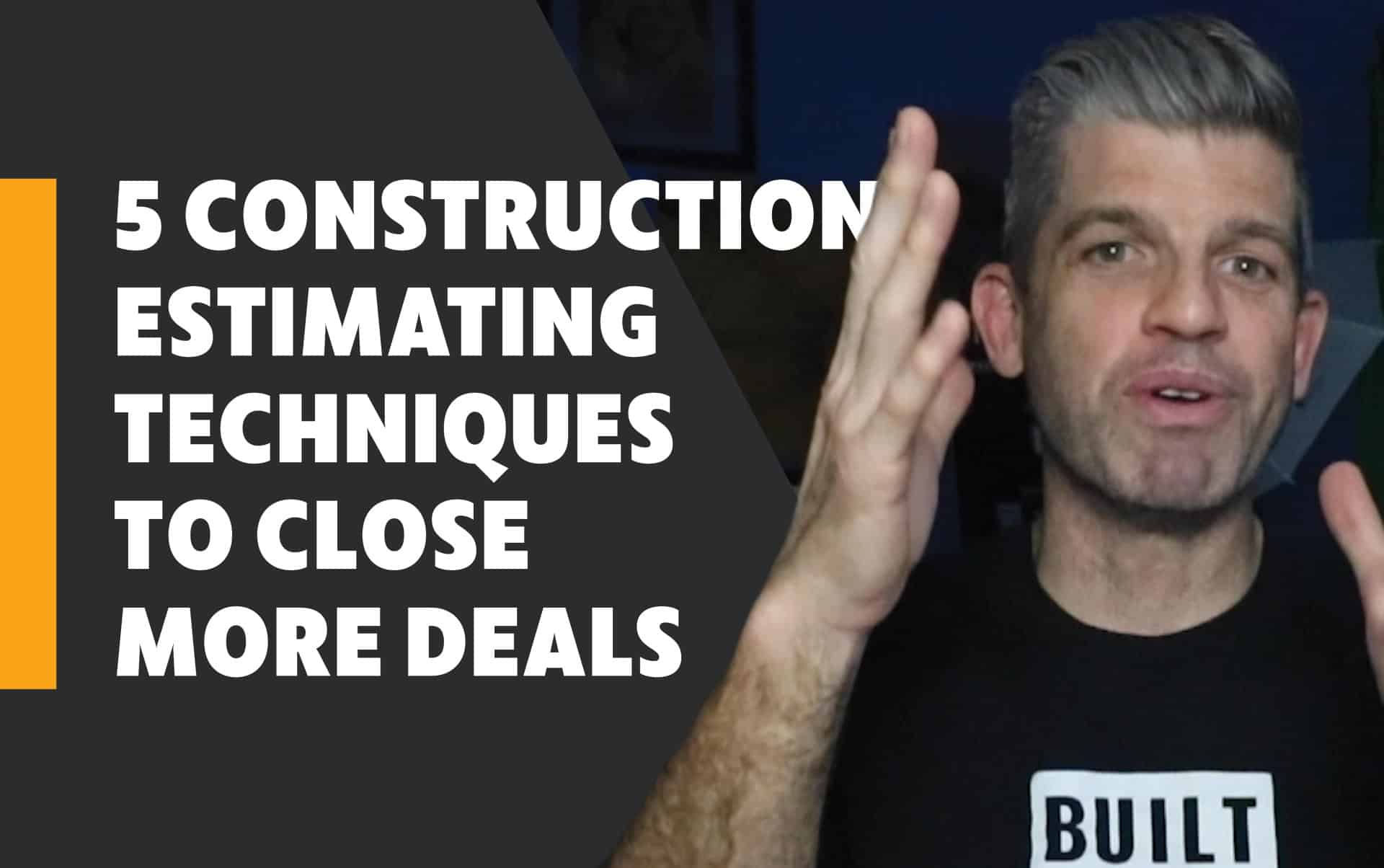 HOW TO USE PSYCHOLOGY TO TO MAKE YOUR ESTIMATES STAND OUT
Construction estimating for a potential client's project is just as much psychology as it is math.
You may not be aware of the psychology that surrounds many of the buying decisions you make every day. An entire field of study is developing around how the human brain determines value. Neuroeconomics is a nascent field that represents the confluence of economics, psychology, and neuroscience in the study of human decision-making.
Scientists found that the same area of your brain determines not only your emotions about a purchase, but also the value you associate with that purchase.
Brains do some pretty funny things when making a buying decision. If you understand your customers' brain activities, then you can use this knowledge to help increase your sales and deliver on value.
In this article, I describe a few techniques that you can use for construction estimating process.
But before you can implement these techniques in your construction estimating system, you need to understand the psychology of Price Anchoring.
Anchoring is a cognitive bias that describes the common human tendency to rely too heavily on the first piece of information offered (the "anchor") when making decisions. During decision-making, anchoring occurs when individuals use an initial piece of information to make subsequent judgments. Once an anchor is set, the brain makes adjustments based on that anchor. In other words, when interpreting new information there is a bias formed by the anchor.
The key to using price anchoring in your construction estimating system is the same whether you are a general contractor or a specialty contractor. You set the standard to which all others will be compared.
5 TECHNIQUES TO USE IN YOUR CONSTRUCTION ESTIMATING
BE FIRST WITH YOUR CONSTRUCTION PRICE
To use price anchoring to your advantage, even if you are the higher price, you have to be first. If your price is higher than the customer wants to pay, that customer will still use your price as a reference to base his/her buying decisions.
SET THE PRICE FOR YOUR CONSTRUCTION ESTIMATE HIGH
Get to an estimated price as soon as possible, and set that estimate high. When you receive more specific information about the project, you will be able to come off the high estimated "ANCHOR" price. You'll look like a hero.
USE PRECISE NUMBERS FOR YOUR CONSTRUCTION PROPOSAL
Carmen Nobel writes in her post When Negotiating a Price, Never Bid with a Round Number:
"…people place more value on precise numbers than on relatively round numbers. People tend to assume, true or not, that someone must have crunched lots of data to come up with an amount so specific. A round number, on the other hand, suggests that a person is just ballparking it — offering an approximate valuation based on vague knowledge."
Use the specifics of your price to aid in establishing your authority with your customers.
USE THE POWER OF CONTEXT WHEN DETERMINING THE FINAL PRICE
Customers are willing to pay higher prices if they know it is coming from an upscale vendor versus a poor quality vendor offering the same product or service.
The use of price anchors in your construction estimates, bids, or proposals is not deception or trickery. These techniques are pure behavioral science.
Using these construction pricing techniques will stimulate the emotional part of your customers' brains during the sales process. This sales technique will also give you an advantage over your competition that did not set an anchor.
Anchor high. Sell value. Deliver an experience.
YOU NEED A SYSTEM FOR CONSTRUCTION ESTIMATING
How awesome would it be to have a system that saves you time on estimates and delivers a fantastic end result to potential customers?
When you enroll in the Built to Grow program in the Built to Build Academy®, you'll get a framework to create a repeatable Estimating system that you can use time and again to cut your estimating time in half.
Enroll in the Built to Grow program and you'll get the Estimating System, along with the Hiring, Customer Experience, and Scheduling systems as part of the Built to Build Framework.
You're going to struggle until you have the systems in place. Create a business that works for you instead of the other way around.
The Built to Build Academy™ creates confident construction business owners through on-demand business training and coaching programs so you can make more money, stop worrying, and get your life back
Double your profits next month
Streamline your construction business in 28 days with The Paperwork Punch List