GET PAID for PLANNING
SPECIALIZED Training Program
Start Selling Your Value, Stop Working for Free, & Get Paid for Planning
LIMITED TIME OFFER – JUNE 2017
Save 20% when you sign up for this training in the month of June.
Do you need help increasing your value to your clients, decreasing time spent running around giving away estimates, and getting paid for planning your clients' projects?
I have partnered with CONSTRUCT-ED to offer my PAID FOR PLANNING program at special discounted price.  Click the button below to learn more.
Calculating the Labor Burden
Calculating the Labor Burden for Your Construction Business
Not accounting for the labor burden in a construction estimate can come at a very heavy price. The labor burden is determined by the indirect costs of employing someone. If these "hidden" costs aren't accounted for, then each project you perform could put you further and further out of business.
A conversation about leadership, culture, and clarity within the construction industry.
"The way your people think about your business…that's your culture."  Leadership expert and mentor, Richard Rierson, interviews Shawn for this episode of Dose of Leadership.  Dose of Leadership is a podcast about leadership and how relevant good leadership is in every aspect of life.  Check out Episode 292 with Shawn and subscribe to Dose of Leadership.
the Paperwork Punch List:
28 Days to Streamline Your Construction Business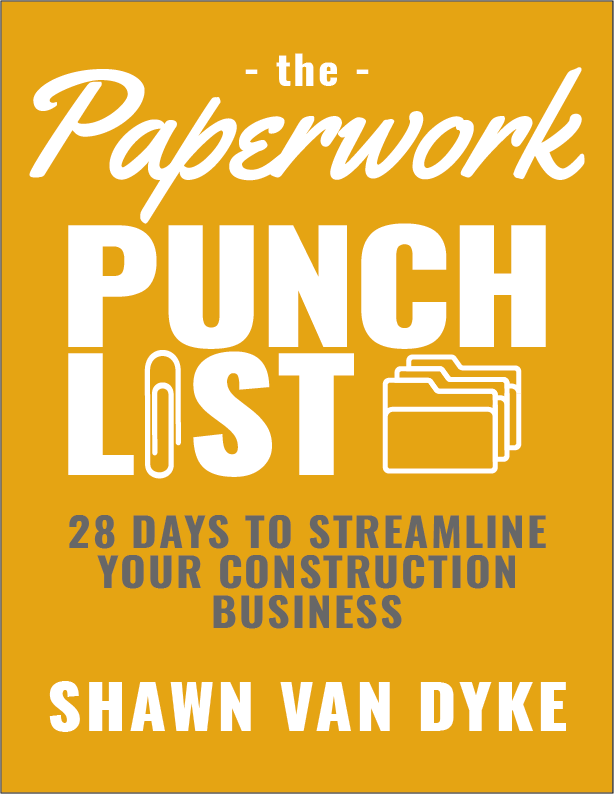 "Where do you want to go next in life?  The influence that provides an edge in our world is determined by how well you're known."  Mark Schaefer interviewed Shawn for this book because of the influence he was having in the construction industry.  You can read Shawn's story and how he became KNOWN in Chapter 5.  Click the link below to purchase the book.
Join the Research Project
What Say You?
Share Your Opinions.
Get Connected.
Help the Trades.
the SKILLED TRADE | SOUND BUSINESS project is an on-going research project I am conducting with professionals in the construction, skilled trade, and design industries to gather information about what they do, why they do it, and their greatest needs in growing their businesses.