Construction Consultant | Business Coach | Mentor
This page is a launchpad for some of the projects I am developing, research I am conducting, and programs I am offering.  Check out the current postings below and contact me if you have any questions or have an idea for a project that will help change the way the world views the trades.
Techniques for Estimating Construction Costs
If you want to produce fast, accurate construction estimates, then you need to develop a unit cost method for estimating your construction projects.
This article details a 4 step process to develop a fast, accurate construction estimating system for your company.
A conversation about leadership, culture, and clarity within the construction industry.
"The way your people think about your business…that's your culture."  Leadership expert and mentor, Richard Rierson, interviews Shawn for this episode of Dose of Leadership.  Dose of Leadership is a podcast about leadership and how relevant good leadership is in every aspect of life.  Check out Episode 292 with Shawn and subscribe to Dose of Leadership.
the Paperwork Punch List:
28 Days to Streamline Your Construction Business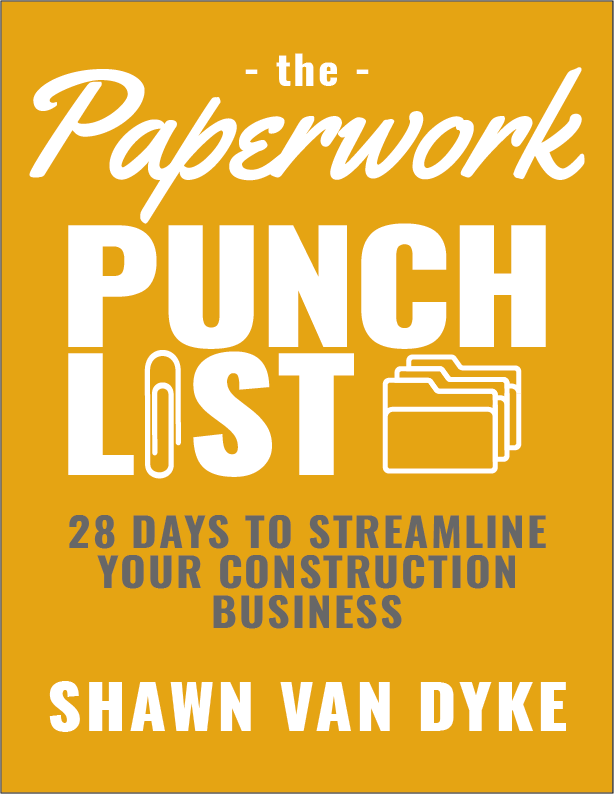 "Where do you want to go next in life?  The influence that provides an edge in our world is determined by how well you're known."  Mark Schaefer interviewed Shawn for this book because of the influence he was having in the construction industry.  You can read Shawn's story and how he became KNOWN in Chapter 5.  Click the link below to purchase the book.
Join the Research Project
What Say You?
Share Your Opinions.
Get Connected.
Help the Trades.
the SKILLED TRADE | SOUND BUSINESS project is an on-going research project I am conducting with professionals in the construction, skilled trade, and design industries to gather information about what they do, why they do it, and their greatest needs in growing their businesses.
Do you need a SPEAKER for your event? Want me to TRAIN your team?
Let's MEET UP. Click the button below to learn how.