PROJECTS I AM WORKING ON NOW
This page is a launchpad for some of the projects I am developing, research I am conducting, and programs I am offering.  Check out the current postings below and contact me if you have any questions or have an idea for a project that will help change the way the world views the trades.
Register for the Emerging Professionals Event at the Remodeling Show | Deck Expo | JLC Live Event on October 26th at 2pm.
This event, sponsored by Fine Homebuilding, will feature Shawn and other Brand Ambassadors – Andy Moore and John Hourihan.  We will be discussing strategies and tactics for achieving business success in the trades.
The panel discussion will be led by Justin Fink, editor of Fine Homebuilding, and include a Q&A with all those in attendance.
Click here to register for the event and use the PROMO CODE: EX347 for free access to the event.*
*Space is limited.  You must register using PROMO CODE: EX347 for access.
Economic Factors
Affecting Your
Construction Business
10 Provisions for Construction Contracts
Designing a comprehensive construction contract is the best way to mitigate the risk to your construction business, protect yourself from legal disputes, and establish trust with your customers.
This article lists the top ten provisions to include in your contracts.
Join the Research Project
Recruiting.
Hiring.
Training.
SKILL THE LABOR GAP: the Blueprint for Recruiting, Hiring, and Training the Skilled Labor You Need Today is the latest book project from Shawn Van Dyke.  He is currently conducting research for the book and would love to have your opinion.
All participants in the research will receive a free DRAFT COPY of the book prior to publishing.
Click the button below to take the survey. (it only takes a couple minutes)
A conversation about leadership, culture, and clarity within the construction industry.
"The way your people think about your business…that's your culture."  Leadership expert and mentor, Richard Rierson, interviews Shawn for this episode of Dose of Leadership.  Dose of Leadership is a podcast about leadership and how relevant good leadership is in every aspect of life.  Check out Episode 292 with Shawn and subscribe to Dose of Leadership.
the Paperwork Punch List:
28 Days to Streamline Your Construction Business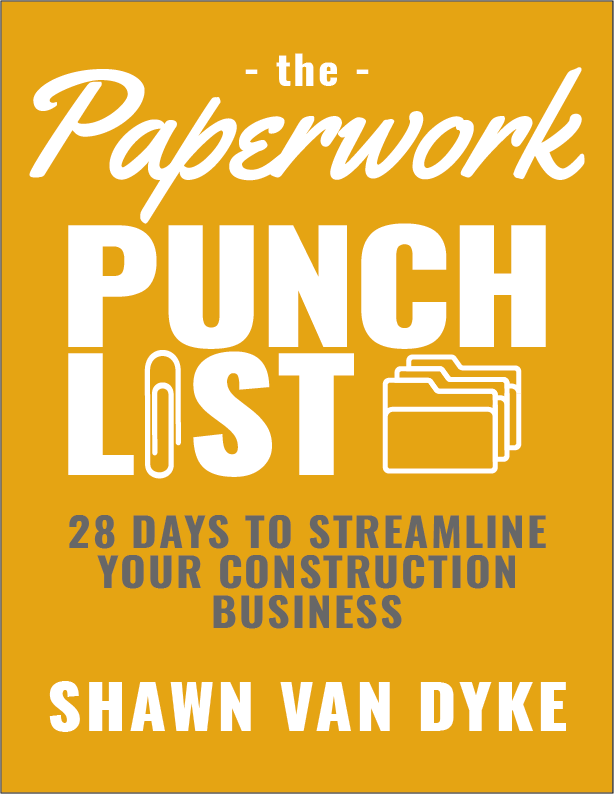 Join the Research Project
Share Your Opinions.
Get Connected.
Help the Trades.
the SKILLED TRADE | SOUND BUSINESS project is an on-going research project I am conducting with professionals in the construction, skilled trade, and design industries to gather information about what they do, why they do it, and their greatest needs in growing their businesses.
Do you need a SPEAKER for your event? Want me to TRAIN your team?
Let's MEET UP. Click the button below to learn how.