PROJECTS I AM WORKING ON NOW
This page is a launchpad for some of the projects I am developing, research I am conducting, and programs I am offering.  Check out the current postings below and contact me if you have any questions or have an idea for a project that will help change the way the world views the trades.
THE E-A-S-Y WAY TO HIRE A CPA
Finding the right certified public accountant (CPA) for your construction business can be an intimidating task. Hiring a CPA can be confusing because you might not be sure what you should expect from a CPA and exactly what they do.
In this post I describe the E-A-S-Y way to hire a CPA – E – Expertise, A – Additional Services, S – Simplify,Y – Year-To-Date
Remodeling Show | DeckExpo | JLC Live
Join Shawn in Baltimore, MD – October 9-11, 2018.
Shawn will be teaching two business conference sessions:
TU07 – CASH COW: How Guarantee Profits for Your Construction Business and Manage Cash Flow at the Same Time
Tuesday – October 9th at 10:30am 
TH03 – SLOW GROWTH STRATEGIES: Four Key Disciplines to Generate Profits for Your Construction Business
Thursday – October 11th at 10:30am 
USE PROMO CODE: EDUCATE for a FREE EXPO PASS and 10% off the Conference Sessions
An online review is the new "word-of-mouth" marketing.
I would love your feedback.
Word-of-mouth marketing is only as good as the words people are using to describe you.
How have I helped you run a better construction business?
36 BOOKS
THAT MADE FOR
A STELLAR YEAR
MY BOOK LIST OF 2017:
I love consuming books.  Eventually I will reach my goal of 52 books in a year, but I will settle for only 36 in 2017.
This post lists the 36 books I consumed in 2017.  If you own a construction business, then you have to read top 5 on the list.
Join the Research Project
Recruiting.
Hiring.
Training.
SKILL THE LABOR GAP: the Blueprint for Recruiting, Hiring, and Training the Skilled Labor You Need Today is the latest book project from Shawn Van Dyke.  He is currently conducting research for the book and would love to have your opinion.
All participants in the research will receive a free DRAFT COPY of the book prior to publishing.
Click the button below to take the survey. (it only takes a couple minutes)
the Paperwork Punch List:
28 Days to Streamline Your Construction Business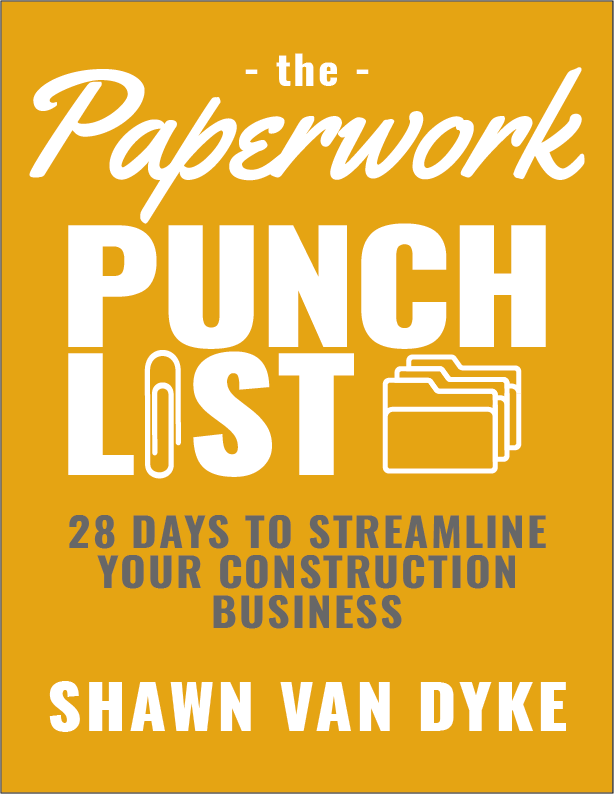 Join the Research Project
Share Your Opinions.
Get Connected.
Help the Trades.
the SKILLED TRADE | SOUND BUSINESS project is an on-going research project I am conducting with professionals in the construction, skilled trade, and design industries to gather information about what they do, why they do it, and their greatest needs in growing their businesses.
Do you need a SPEAKER for your event? Want me to TRAIN your team?
Let's MEET UP. Click the button below to learn how.